2019 Modesto City Championship
The 2019
Modesto City Championship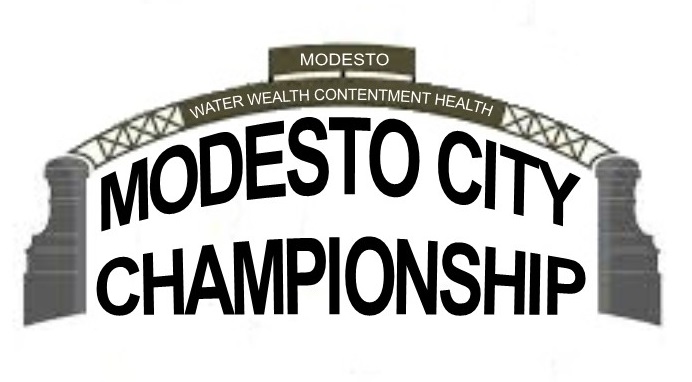 ELIGIBILITY: Open to any amateur golfer who has reached his or her 18th birthday by June 1, 2019. Seniors must be 55 or older by June 1, 2019. Super Seniors must be 65 by June 1, 2019. All players must have GHIN index. Entries are subject to rejection at any time. A driver's license will be required for proof of age.
ENTRY DEADLINE: Entry form must be returned to Dryden or Creekside golf shop no later than June 1, 2019. NO POST ENTRIES.
ENTRY FEE: $125.00 per player and includes greens fees, prize fund, range balls and lunch.
FORMAT: Championship, First, Second, Third, Fourth and Senior Championship flights play scratch 36-hole stroke competition. NCGA points event. Ladies will be awarded overall gross winner and net prizes. Senior Handicap will be awarded net prizes.

STARTING TIMES: Second, Third, Fourth Senior Handicap and Women's flights will play at Dryden on Saturday and Creekside on Sunday. Championship, Senior Championship, Super Senior Championship and First flights will play at Creekside on Saturday and Dryden on Sunday. Tee times will begin at 7:00 a.m. both days.
PRIZES: Each flight winner will receive a trophy and/or merchandise certificate.
COMMITTEE: Chris Mendes, Larry Alvarado, Vince Suarez, and Kelly Smith
Divisions:
Championship 5.7 and below
First 5.8 - 9.8
Second 9.9 - 13.9
Third 14.0 - 18.1
Fourth 18.2 & Up
Women's ALL
Senior Championship 9.9 & below
Super Senior Championship 9.9 & below
Senior Handicap 10.0 & Up

CLICK HERE
To Sign Up